Grandma Pizza with roasted mushrooms, leeks and mozz.
Even before Vegetary January began, we gave this big, easy vegetarian pizza a go.
Hello again! Apologies for being away for most of December: I decided to take a break from writing to recharge and get ready for a busy, busy January (I'm changing careers; turns out people SAY they enjoy watching me pole dance but are increasingly unwilling to pay for the privilege).
But we had a little time to celebrate the holidays, so in late December, Mary and I had some friends over, and I made some pizza.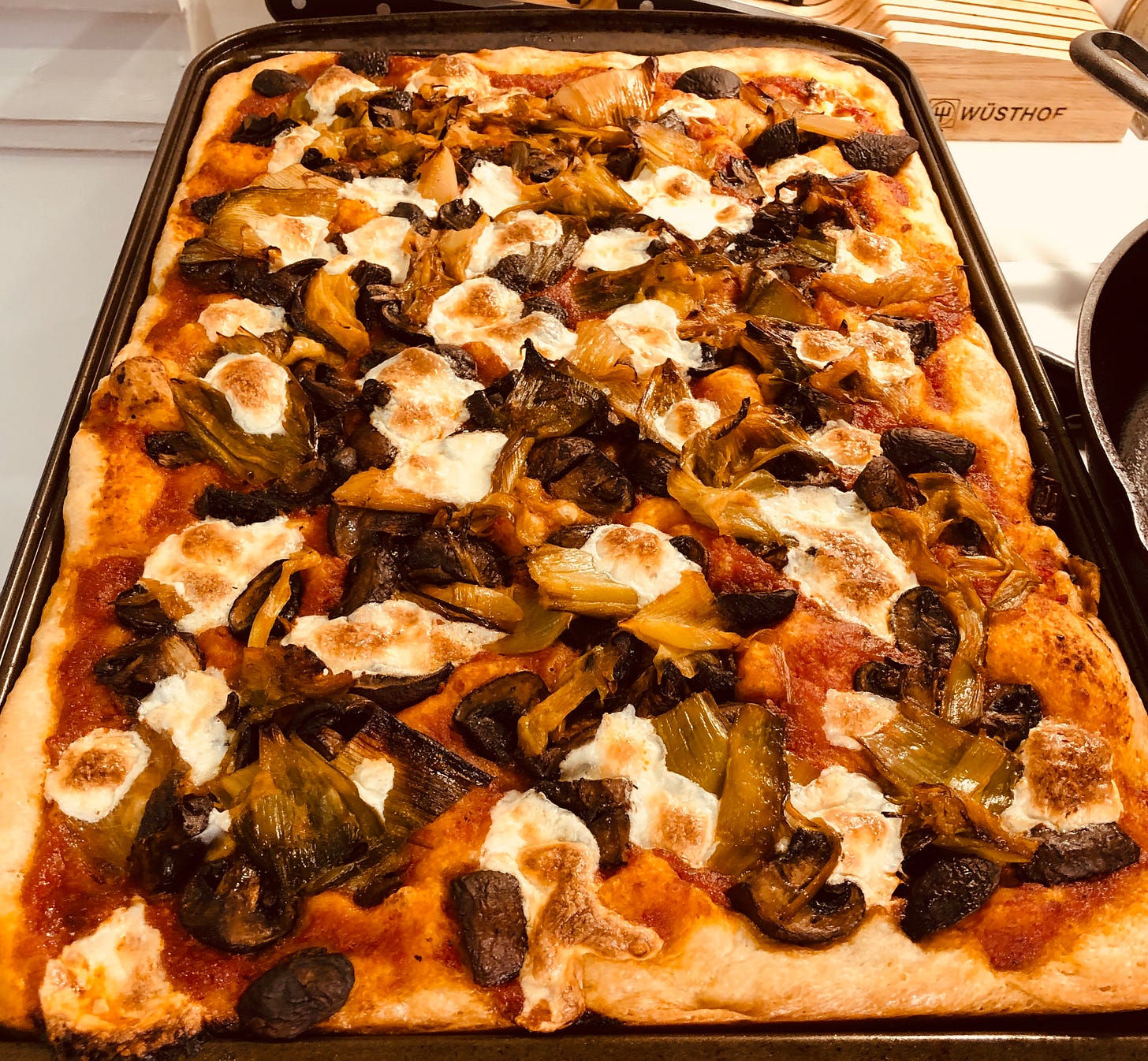 People who say toppings are the key to a good pizza are missing the point; a good crust will make a pie topped with mushy Campbell's soup noodles and expired Thousand Island dressing worth eating. But for many folks who've never tried, making crust is a little too much like the daunting task of making bread.
Which is why this recipe for Grandma style pizza (i.e. sheet pan pizza) is a great choice for the beginner pizza crust maker: as long as you follow the steps (and only make ONE BATCH OF DOUGH AT A TIME IN YOUR STAND MIXER) you'll do just fine. With a little planning and not too much work you can make a tremendous slab of pizza that will look impressive on your table (and will turn out golden and crispy without any special stones or steels in your oven — though you're welcome to use them for oven temperature control if you like.)
This recipe also uses roasted mushrooms (which turn positively meaty) and roasted leeks (criminally underused in the kitchen and on pizzas, in my opinion.)
Ingredients:
For the crust:
1 envelope active dry yeast (not the "instant" stuff) – should be 7g

2 Tbsp. plus 1/2 cup extra-virgin olive oil, plus more for bowl

2 1/2 tsp. kosher salt

4 cups all-purpose flour, plus extra for dusting
For the sauce:
1 28-oz. can whole peeled tomatoes

4-6 garlic cloves

1 onion, halved

6 tablespoons olive oil

1/4 cup fresh basil leaves

Kosher salt and freshly ground black pepper
For the toppings:
2-3 pounds of assorted button, cremini and/or shiitake mushrooms, quartered

8 to 12 sprigs thyme or rosemary

2 tablespoons chopped chives or parsley

6 leeks, white and pale green parts only, cut in half and rinsed thoroughly with cold water (leeks be durty, friends)

lots of olive oil (at least 1 cup)

kosher salt and black pepper

4-6 oz. fresh mozzarella, maybe more, maybe less, I'm not your mom, do what you like

grated parmesan cheese, if desired
The day before:
The day before you wanna eat this pizza (yes, it's a two-day thing, but the prep you do before sets you up for an easy day of cooking) you need to get your dough started. Put the yeast and 1¾ cups warm water (105–110°) in your stand mixer bowl. (Use a digital instant read thermometer. Your tap water should be hot enough, but check that it's not too hot.) Let it sit around for about 10 minutes until it begins to foam.
Add 2 tablespoons of oil, then salt and 2 cups of the flour. Using a dough hook, mix all of this at low speed until barely combined. Scrape down your bowl, and then add 2 more cups of flour, one cup at a time, until you get a shaggy, scraggly-looking dough - should take about 3 minutes.
Increase mixer speed to medium and mix until the dough is squidgy and stretchy and pulls away from the sides of the bowl—about 5 to 6 minutes. It will be sticky. Place dough in an oiled bowl large enough to accommodate the rise and cover with plastic wrap. Chill for 24 hours.
Now, at this point, you can go do whatever the hell you want until the next day, but since you're in the kitchen anyway, why not get the sauce and those mushrooms and leeks ready?
The sauce is pretty easy: pulse everything but the onion together in a food processor. Pour that into a saucepan, toss in your halved onion and stir occasionally. Bring to a high simmer. Turn heat down to a low simmer and continue to stir occasionally. Cook down for an hour. Add additional salt and pepper if necessary. Continue to cook down until you get a rich-tasting but not too thick sauce for up to another hour. Fish out onion (if it hasn't completely disintegrated into the sauce) and let cool. Store in fridge (This will make enough sauce for several pizzas, since I assume you'll make this again.)
As for the mushrooms: preheat an oven to 375°. Line a rimmed baking sheet with foil. In a separate bowl, toss the 'shrooms in 1/3 cup of oil, salt and pepper. Spread them in an even layer (you can cram them in a little but don't press your luck.) Spread thyme or rosemary sprigs on top and roast for 15 minutes. Remove pan from oven and drain liquid (save that mushroom liquid — it makes fantastic vegan stock or a sauce base.) Continue to roast for 30 more minutes. Discard the sprigs, put the 'shrooms in a big bowl and toss with chopped fresh herbs. Now set THAT aside as well.
One note on the 'shrooms: you will NOT need all those 'shrooms for your pizza. But HOT DAMN will they taste good on or in a lot of other things. After your pizza is made, save the rest and use for omelets, frittatas, hell, even vegetarian subs. LIVE YOUR LIFE.
It's leek time! These are even easier. Preheat your oven to 400°. Make sure your leeks are rinsed and patted dry with paper towels. Place a sheet pan in oven to preheat. Toss your leeks in 1/2 cup of oil and some salt. Place leeks cut side down on hot sheet pan, cover loosely with foil and continue to roast at 300° for 1.5 hours. Leeks should be just a little brown and golden at this point. Pull foil, flip the leeks over and crank the heat back to 400° and roast for another 20 minutes. Leeks will be very soft. Let cool, then chop into 1-inch chunks and put the sections and that delicious leek-infused oil into a container, then into the fridge. (YES, I HAD YOU MAKE EXTRA. I'M JUST LOOKING OUT FOR YOU, THESE THINGS ARE SO F*CKING TASTY.)
The day of:
Preheat your oven to 525° or as high as your oven will go.
About 90-120 minutes before you want to eat, pull the dough out of the fridge. Pour 1/2 cup of olive oil onto the pan, evenly. Turn dough onto pan and let it relax and warm up a bit, about 10-15 minutes. Gently stretch dough (or do what I do and squish the stuff with your fingertips) until it fills the pan, getting it into all the corners. If the dough is a little uncooperative, let it rest a little longer, then try again. Don't worry if a little oil gets on the top, you're gonna be adding more, anyway.
At this point, pull your sauce, mushrooms, leeks and cheeses. While they're coming up to room temp, cover stretched dough with plastic wrap and let sit at room temp (if your room temp is around 70-ish degrees) for about 40 minutes. Dough should get a little bubbly.
Add a cup of the sauce and spread it in an even layer across the crust. Pick up a handful of the mushrooms, squeeze any excess liquid out and distribute them evenly across the top. Add more if you like but don't go too crazy. Do the same with the leeks. Tear the fresh mozz into pieces then dot the pizza with your cheese. Sprinkle generously with parm and drizzle with olive oil.
Bake that sucker for about 20-30 minutes, depending on how hot your oven runs. The crust bottom should be golden brown and crispy AF. Put pizza onto a large cutting board and slice (DO NOT CUT PIZZA WHILE IT'S IN THE PAN, YOU WILL RUIN THAT NICE SHEET PAN YOUR AUNT GAVE YOU TWO SUMMERS AGO WHEN SHE WAS WORRIED YOU'D NEVER LEARN TO COOK FOR YOURSELF, YOU HEAR ME) and serve immediately.
Staying vegetarian for a whole month sounds hard if you've never done it before — but it definitely doesn't have to suck, and dishes like these are the proof.
This recipe is adapted from several sources — thanks to Bon Appetit and Serious Eats.
And thanks to you for reading. More vegetable-focused tastiness this January, friends!
– Theo
---
If you've read this far, and this often — you've probably been enjoying The83K for the length of our brief existence. Won't you help us get bigger and better and become a Patron?
Thank you for subscribing to and spending time with The83k. This newsletter will remain free for you, friends and food fans, who are enjoying the food coverage here — but I'm hoping to offer in broader and more in-depth stories and features in the future. I'd like to dedicate more time to it and make it a sustainable concern for everyone who wants more of that delicious, useful content (and frequent roundups of everything you like about food.)
Please consider becoming a Patron and help make The83k bigger and better.
OH AND THERE'S A BUNCH OF PERKS, TOO.
Also: if you don't want to subscribe, or just want to make a one-time donation – OR want all the goodies but don't want to use Patreon, please feel free to use this link: paypal.me/theohahn
Again: thank you, friends!
---
That's it for this edition of The83K newsletter. If you have any tips or suggestions for things you'd like to see here, please drop me a line at the83k@gmail.com.